Dual AY-3-8910 MIDI module
Jump to navigation
Jump to search
For the last couple years I've been fascinated by MIDI and its ability to both play music in real time and record the signalling for later playback and refinement. That's all well and good but wheres the fun in just buying off the shelf equipment when you could make your own? Specifically I'm calking about MIDI controlled "sound modules" that take a MIDI input, and output sound. Often you would use MIDI to control a synthesizer, electric piano, or some other purpose built instrument; but why not programmable sound generators (PSG) like an AY-3-8910 from General Instruments!
There are several guides and hundreds of other people that have done this previously with a single chip but I want to control two chips at once. A single 8910 has 3 output channels, so it can play 3 notes at once. With a bit of work, and the correct timing, multiple chips can be used together to increase the note count.

My work below is a derivative of the code and design by TheSpodShed on Instructables available here: https://www.instructables.com/Arduino-MIDI-Chiptune-Synthesizer/
Theory
The AY-3-9810 is relatively simple to work with requiring only a data bus, a couple control lines, a 1 MHz clock, and reset. The datasheet (available here) describes the connectivity requirements in detail. The code by TheSpodShed has a neat feature where if more than 3 notes are played at once one of the middle notes will be dropped while the highest and lowest notes continue to play. This does a pretty good job of getting around the note limitation but it isn't without its faults.
To control two chips the data bus, clock, and reset can be shared but we need two more I/O pins on the Arduino (more on this later).
The circuit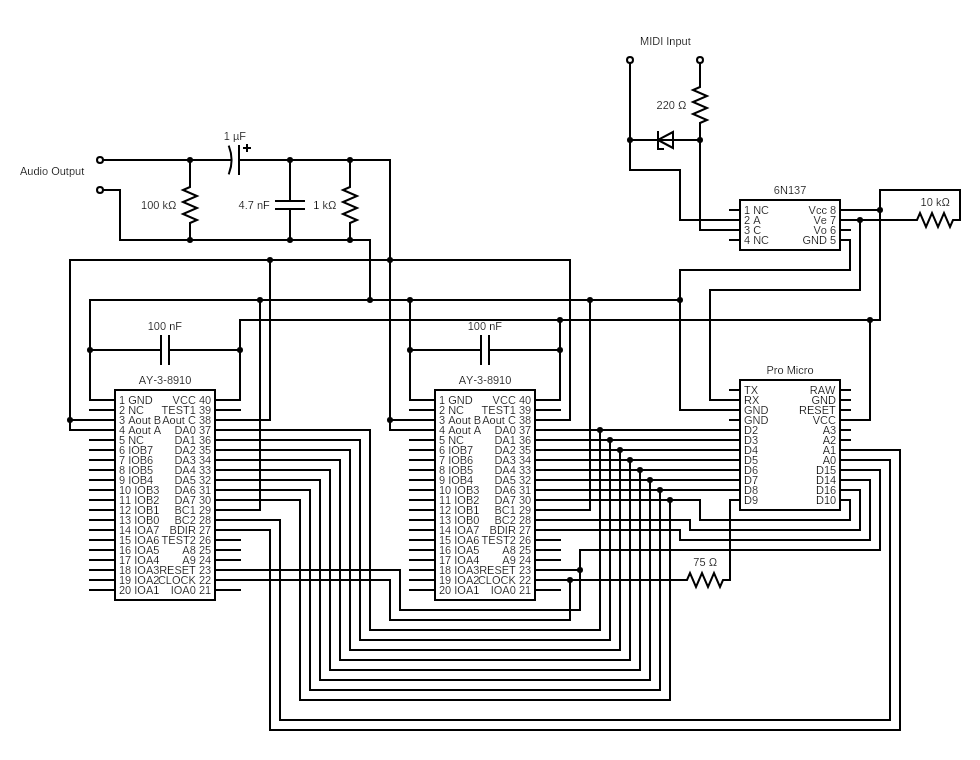 The entire circuit is powered by over USB and the Arduino generates the 1 MHz clock for simplicity's sake.
The AY-3-8910 datasheet provides a reduced control scheme to save an I/O pin but I was unable to get this work reliably. I instead came up with an alternative reduced control scheme.
The original control scheme can be reduced to a much simpler to use method where BC1 is grounded and READ is never used. This allows the Arduino to change one output at a time to transition between states removing the need for precise timing.
| BDIR | BC2 | BC1 | Function |
| --- | --- | --- | --- |
| 0 | 0 | 0 | INACTIVE |
| 1 | 1 | 0 | WRITE |
| 1 | 0 | 0 | LATCH |
Code
You will need the Arduino MIDI library installed as well as the USBMIDI library if you want to use USB.
Download here: File:Dual AY-3-8910 MIDI.ino
Putting it all together
I'm a fan of the cast aluminum enclosures sold by Tayda Electronics which provide a nice finished product if you take your time in construction.
Unfortunately I didn't document most of the process but here are some important steps:
---
When drilling through the enclosure cover the outside in masking tape to protect the finish
Its easier to make notches for the screw mounts on MIDI connectors then to drill holes for them.
Put a small amount of clear nail polish around any holes to prevent the paint from peeling.
Plan the locations of your connectors carefully to maximize the available internal space, and leave lots of slack!
Once you know the dimensions you have to work with arrange the major components first, then start building the circuit one section at a time. This was when I had completed the MIDI input circuit.
Run power and simple shared connections early on. This is power, MIDI input, and the entire audio output stage completed. Make sure you check for shorts often!
Clocking, reset, and BDIR/BC2 added.
Data bus added, all finished!
Don't be like me. Use thinner wire than 24 AWG.
Time to test! Arduino Pro Micro (clone), 6n137, and two AY-3-8910 socketed and ready to go.
Checking the final fit with a plastic sheet glued down under the board to prevent shorting against the case.
How can I prevent the board from rattling around in the case? A handful of anti-static packing peanuts should do the trick! (The closed case will crush them against the board)
Added four rubber feet to stop it from sliding around and wrecking the nice paint.
All finished. Time to play some music :)
Samples
Sadly I'm not a very good piano player yet so I recorded the playback of some well known midi files for demonstration.
Final thoughts
This midi sound module was built as a gift for my much more musically talented cousin and was an absolute blast to put together. The two AY-3-8910 struggle with more than 6 voices but that is to be expected. Maybe I'll build a 3 chip - 9 voice version next? :)